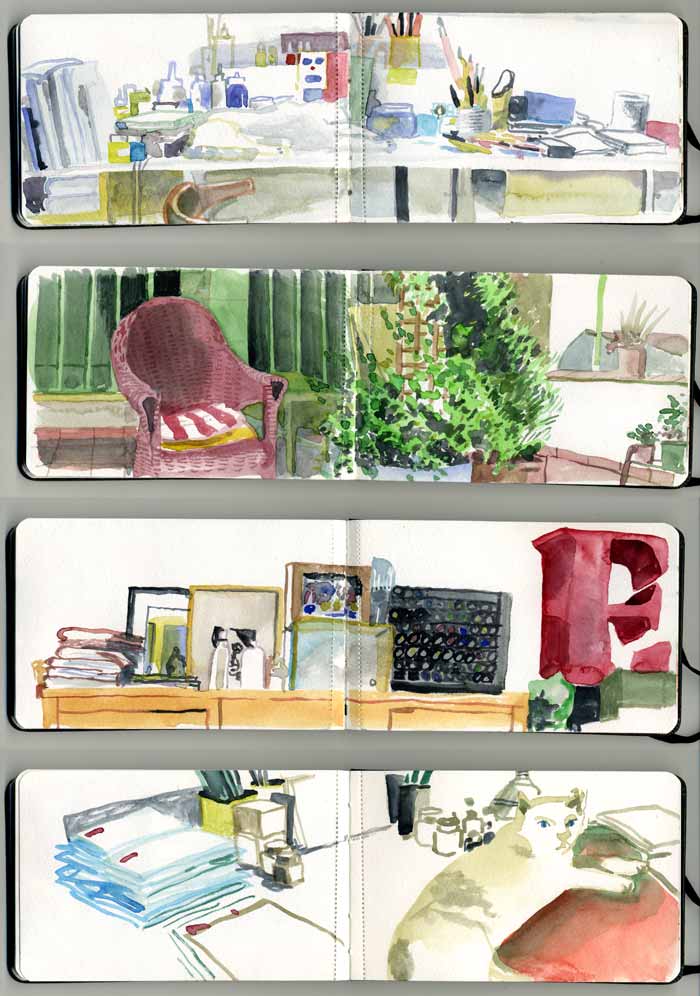 Sketching indoors. It´s very hot here in Madrid so there´s no way I go to the street before the sunset.
---
Real Crawler

Posts: 122
Joined: Sun Mar 02, 2008 1:20 am
Beautiful interior scenes. they really give that 'I wish I could do that' feelign. I also wish I could be in Madrid to go out after dark when it's cooler.
---
Sensei Crawler

Posts: 765
Joined: Sun Oct 23, 2005 10:05 am
Location: Hamburg, Germany
Contact:
-- we had a couple of days ago - melting in the streets
I like how your sketches come out so deep!
Thanks for sharing and have comfy cool evening,
t.
---
---
Newbie Crawler

Posts: 24
Joined: Wed Apr 01, 2009 10:58 pm
Fantastic Work as always, especially like the one with the cat.
---
Sensei Crawler

Posts: 789
Joined: Tue May 18, 2010 6:24 pm
Location: CLAVIERS (Var) France
Contact:
I really love those interior scenes. Lovely watercolours full of delicacy !
(specially the second one)
Bravo
Sophie
https://www.flickr.com/photos/sophie_valenti/
[color=#BF0000]See our last results :http://www.sketchcrawl.com/forum/viewtopic.php?f=83&t=13809
---
I understand perfectly not wanting to go out to sketch in extreme heat. Your inside sketches are wonderful though. The first one of your art desk must have taken a long time. SO much detail!
---
Thanks to all for your comments. All the sketches were done quickly with no previous pencil, as usual. They don´t intend to be photographic and the goal was to record some of my daily environment. I´m glad you´ve enjoyed them.
---
Hola 4ojos

Are you the only sketch crawler in Madrid? I'm asking because I have a very good friend who lives in Madrid. We went to animation school together in Denmark. And now she recently moved to Spain, so I'm sure she would love to get out and draw with some people.

Next time probably wont be so hot, so you can get out perhaps?

Stine
---
Hi, Stinowitz. Thanks for the suggestion. No problem about anyone joining me for sketching. My mail is on my site
www.4ojos.com
---
Newbie Crawler

Posts: 39
Joined: Tue Apr 20, 2010 6:30 am
Contact:
Hi Stinowitz and 4ojos,
I've been trying to organize sketching meet ups in Madrid though on both first attempts we had to give up due to rain - in June and July! I hope to try again in September - do get your friend to contact me via the details on the page here:
http://sketchmadrid.blogspot.com/
...it would be great if you want to come along too 4ojos, I love your work and blog, these interiors are wonderful as usual.
---
Great. We can try to organize something next time
---
Sensei Crawler

Posts: 895
Joined: Sun Oct 26, 2008 4:50 pm
Location: Kanagawa/Japan
Contact:
It is great to see a master's atelier
Love especially the cat one.
---
---