Welcome aboard the SketchCrawl 27th World, 3rd edition Perigueux. The morning began under the sun until lunch. Then came the rain disrupting drawers, forcing them to find sheltered areas for further work.
Four people were present. Andree Babeth, William and Pascal.
Some warm-up sketches were first drawn on the place of Navarre, and the group landed on the Saturday market. By late morning the cathedral served as a subject since the banks of the river Isle. Lunch break allowed us to return to the place of Navarre. From there we headed towards the cultural center F. Mitterrand to admire the photographic exhibition which takes place until August. The rain had came, so we found refuge in the lobby of the theater, moviegoers used as models. Later we have drawn in the passage Daumesnil before ending our day by photographing the work.
Finish? Not quite. This day took place the night of museums. Museums remain open late, at least midnight, sometimes even later. Golden opportunity to end this day of drawing. After a few more sketches outside, I went to the museum Vesuna at 8 pm, Gallo-Roman Museum in Périgueux and I continued to fill the pages of drawings of exhibits in the museum. At 9:30 p.m. I joined the other museum of Périgueux, the Museum of Art and Archaeology. It was overcrowded and noisy with pressed visitors, no doubt surprised to pass by someone illustrating his sketchbook of bifaces and other amazing items. Around 23 hours a festival took place at the center of the museum with techno music, lighting and video on a giant screen. A break in the pub the Star Inn was not enough to banish fatigue, especially eyes, so it was about midnight when I went back home. Time to tweak a few draws, to make a last of my wife asleep. A SketchCrawl day, a real one!
Bienvenue à bord du 27ème Sketchcrawl mondial, 3ème édition à Périgueux. La matinée a débuté sous le soleil jusqu'au repas de midi. Ensuite la pluie est venue perturber les dessinateurs, les forçant à trouver des lieux abrités pour continuer à œuvrer.
Quatre dessinateurs ont répondu présent. Andrée, Babeth, William et Pascal.
Quelques croquis d'échauffement ont d'abord été dessinés sur la place de Navarre, puis le groupe s'est posé sur le marché du samedi. En fin de matinée la cathédrale a servi de sujet depuis les quais de l'Isle. La pause déjeuner nous a permis de revenir vers la place de Navarre. De là nous nous sommes dirigés vers le centre culturel F. Mitterrand admirer l'exposition de photographies qui s'y tient jusqu'en août. La pluie venue nous avons trouvé refuge dans le hall du cinéma, les cinéphiles servant de modèle. Plus tard nous avons dessiné dans le passage Daumesnil avant de terminer notre journée en photographiant les travaux de chacun.
Terminer ? Pas tout à fait. Ce 15 mai se déroulait la nuit des musées, c'est-à-dire que les musées restent ouverts tard, au moins minuit, parfois plus tard. Occasion rêvée pour finir cette journée de dessin en beauté. Après quelques autres croquis extérieurs, je me suis donc rendu à 20 heures au musée Vésuna, musée gallo-romain de Périgueux et j'ai continué à remplir les pages de dessins d'objets exposés dans le musée. Vers 21 heures 30 j'ai rejoins l'outre musée de Périgueux, le musée d'art et d'archéologie. Il était surpeuplé de visiteurs pressés et bruyants, étonnés sans doute de passer près d'un dessinateur illustrant son carnet de bifaces et autres objets étonnants. Vers 23 heures se déroulait une fête au centre du musée avec musique techno, jeux de lumières et vidéos sur écran géant. Une pause au pub le Star Inn n'a pas suffit à chasser la fatigue, des yeux surtout, c'est donc vers minuit que j'ai repris le chemin de la maison. Le temps de fignoler quelques dessins, d'en faire un dernier de mon épouse endormie. Une journée de Sketchcrawl, une vraie !
Our works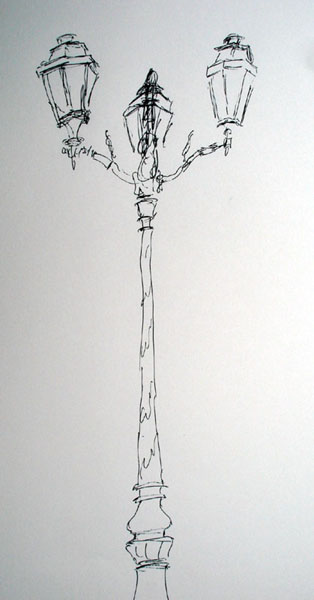 récit en image de la ( longue ) journée
C'est promis, la prochaine fois nous essaierons de faire mieux !
I promise, next time we try to do better !
Pascal