Real Crawler

Posts: 100
Joined: Sat Feb 27, 2010 9:46 pm
Quelques photos des sketcheurs et sketcheuses:
---
Uber Crawler

Posts: 166
Joined: Sun Sep 20, 2009 2:15 pm
Location: Pontoise - France
Contact:
De bien jolies choses ! Bravo pour la diversité des croquis et des styles !
---
Le plaisir de dessiner a (presque) fait oublier la "fraîcheur" de ce 15 mai. Merci à tous pour cette journée !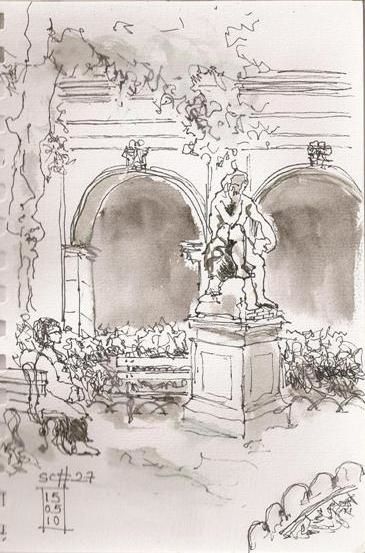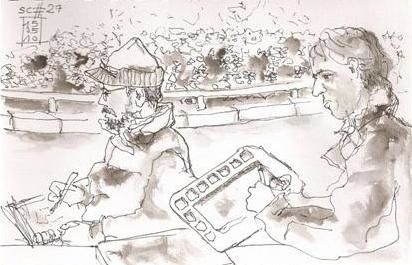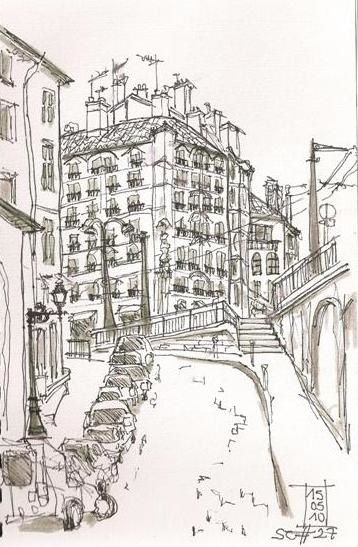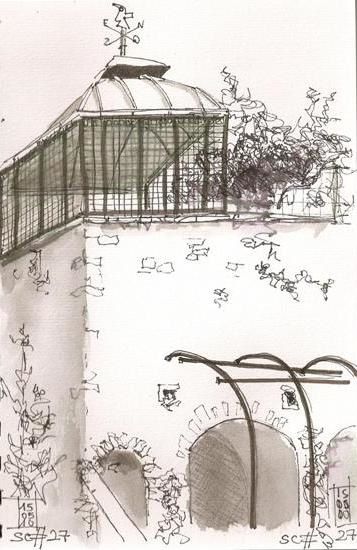 http://www.leregardvoyageur.over-blog.com
Last edited by
shilpi
on Mon Jan 24, 2011 1:07 pm, edited 2 times in total.
---
Voici quelques pochades faites durant ce sketchCrawl très réussi. Merci à tous.
Cédric
http://www.pochon-aquarelliste.com/
---
Encore un sketchcrawl dans le froid ...
Un premier rendez-vous en terrasse tout de même autour d'un café... une bonne manière de papoter avec plaisir avec les anciens et accueillir les petits nouveaux
Another sketchcrawl, still with a cold weather...
With a meeting around a first coffee, nice idea to meet people before drawing...

Ensuite une première étape au musée des Beaux Arts : difficile, ce premier dessin... le temps de s'échauffer, on va dire !
Then a first stop in the convent of the Lyon Museum of Fine Arts : difficult first drawing... need time to get involved !
Second arrêt montée de la Grand Côte : superbe endroit, un concert de percus pour aider à la concentration... en cadence avec les gargouillages de nos (mon ?) estomacs affamés.
Second stop in the Montée de la Grand Côte. Nice place, with a drums concerto, ideal to get concentrated...and nicely accorded to our (my ?) stomachs grumbling with hunger...
Un sandwich et un café place Sathonay. Une bonne excuse pour un dessin de plus (oui Marc, même pour toi
). Allez, on sort la couleur pour de vrai !
Time to eat and have a hot coffee in place Sathonay. Good excuse for a one more drawing.
Place Gerson pour l'arrêt suivant (trop froid pour la passerelle ou les quais, dommage...). Que de sujets... lequel choisir ?
Place Gerson for next stop. So many subjects to draw there... which one to choose ?
La pluie nous fait reculer dans le jardin du musée Gadagne... on ne va pas se laisser impressionner, et ranger les crayons... Denise en demande encore et encore ! Bien sûr qu'on suit !
A little rain... not enough to have us stop ! Especially for Denise who never has enough sketching ! and of course we follow her !
Un petit dernier pour la route, en effectifs réduits... les yeux commencent à ne plus suivre... mais on n'a pas envie de s'arrêter...
And a last one, with less sketchcrawlers... our eyes ache, but we can't stop !
Ravie d'avoir vu ou revu tout ce beau monde,
bise spéciale à Lara&co, à nos invitées russes et allemandes accueillies avec plaisir, et aux voisines stéphanoises et Mâconaises...
So happy to meet everybody,
special kiss to Lara & co, to our Russian and Deutch friends, to our neigbours from Saint Etienne and Mâcon...
On se voit le 31 juillet au plus tard pour remettre ça !
See you on July 31st for next sketchcrawl !
---
Retrouvailles dans la cour du palais Saint Pierre ... il faut se chauffer la main.
Croquis en musique sur les pentes de la Croix Rousse ... le Soleil est même de la fête.
Place Gerson : la multitude des possibles ... finalement les vélo'v.
A l'abri du vent l'adorable terrasse du musée de Gadagne.
Un denier pour les "accros du croquis" : la maison Rose à Saint Jean.
Un grand à merci à Miss Trop pour l'organisation et à tous et à chacun pour la convivialité.
---
Sensei Crawler

Posts: 914
Joined: Sun Oct 26, 2008 4:50 pm
Location: Kanagawa/Japan
Contact:
Fabulous sketches from Lyon
All works are so lovely depicting the charm of the city.
---
Hello Lyon!
Nice black and white sketches! Nice lines!
Tessan in Norrtelje
---
Sensei Crawler

Posts: 802
Joined: Tue May 18, 2010 6:24 pm
Location: CLAVIERS (Var) France
Contact:
Réalisations toutes aussi ravissantes les unes que les autres ! Félicitations à tous !
Sophie
---