Okay, I'm reposting L.A. results from Sketchcrawl 15, so people don't have to scroll through all our discussion about where to sketch. Maybe this is unnecessary, but my OCD got the best of me.
From
storydesign
:
http://www.flickr.com/photos/storydesig ... 667385365/
http://jmitchellstudio.blogspot.com/
http://storydesignonline.com/
"I ended up in
Little Tokyo
for the Taiko drumming at the cultural center-end of the day.
I did a late lunch at
Daikokuya
Ramen on first st. I did a quick digital sketch of the clientele."
"The manager, Motoi, became interested in my tablet sketching--"
"he is an artist too. I let him give it a whirl--his drawing
below
."
"I did get to sketch the
Nebuto float
from Japan! Very cool!"
From
akiko
:
http://signal2noiz.com/1618
"This was my first time joining a group for the sketchcrawl. It was fun meeting new people and being with others, sharing stories and exchanging art material infos and tips.
I've only been to Mitsuwa and Kinokuniya so this was a great opportunity for me to explore the rest of it and what Little Tokyo is all about.
On First street, there are historical buildings where restaurants now occupy. "
"In the village"
http://www.signal2noiz.com/1618/wp-cont ... 5-3web.jpg
"Up at the gardens in Hotel New Otani."
"we passed around our sketchbooks at the end. Thanks to Shiho for keeping the group together! StoryDesign - sorry we didn't get to meet up with you."
From
leeroy
(me):
http://blog.artandstory.com
"Here's part one of my sketches, with part two coming tomorrow. I've written a little more about these on my blog, but here are the images!
I used my new sketchbook, a Moleskine daily planner which I refilled with watercolor paper just the day before — more on my blog as well."
From
shihonakaza
:
http://shihonakaza.com
http://shihonakaza.blogspot.com
http://shihonakaza.blogspot.com/2007/08 ... tokyo.html
Shiho had trouble posting images from blogger, so I've copied them to my host's server. Here's her text and images as they appear on her blog:
"For 15th Worldwide Sketchcrawl, a small group of us from Los Angeles went to Little Tokyo. It happened to be Nisei Week festival weekend, so there were bunch of people in various costumes, food booths, and stuff to sketch galore! Here are my sketches:
Here are people wearing various costumes and kimono - I love sketching people, so here it is. I've combined two sketch pages into one file for this one."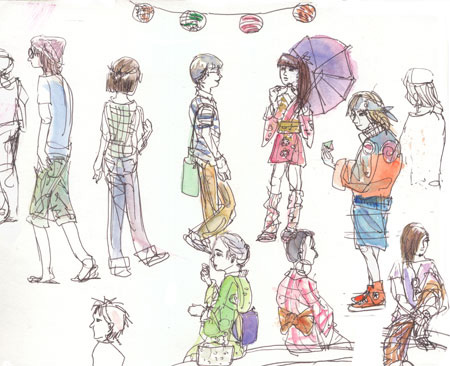 "Here's my impression of a giant paper parade float from Japan. You can check out the Sketchcrawl Forum for other people's take on this."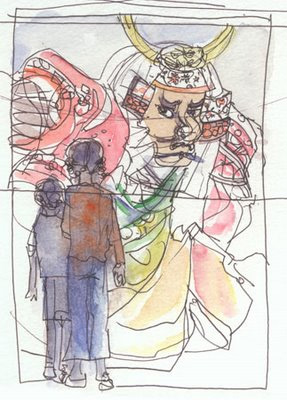 "We ended the day at rooftop Japanese garden at New Otani Hotel - a very tranquil way to wrap up a day of drawing!"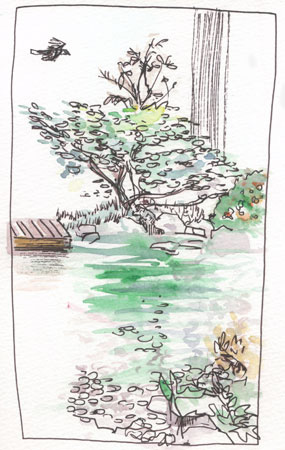 ----
Discussion and comments already made can be found starting here at the previous thread:
viewtopic.php?t=2500&postdays=0&postorder=asc&start=15